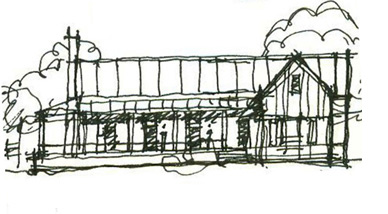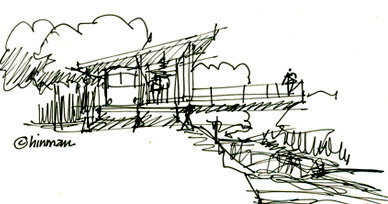 We create additions, remodels and new construction for homes, businesses, and community spaces.
Services
Our services are best described in four phases:
Phase 1 — Feasibility Study When a client comes to us with an agenda of needs and wants, our first step is to clarify those goals with a specific, achievable scope of work. Phase 1 produces plan diagrams and organized written descriptions of the project.
Phase 2 — Architectural Design In this phase, we give give form and definition to the project with initial architectural design solutions. In order to help everyone visualize the intended design, we use sketches, 3D computer models and physical models. This phase includes a preliminary budget and schedule. We recommend consulting with the prospective builder at this early stage of the project in order to maximize the use of resources.
Phase 3 — Construction Documents These are the technical documents the builder and all subcontractors will use to construct the project in accordance with the design. Construction documents are required in order to obtain all necessary permits.
Phase 4 — Project Management Because design is incomplete until construction is complete, we follow all of our projects through the full construction process. We offer a high level of involvement in construction administration, or a comprehensive role in construction management acting as the owners' representative.
Fees & Proposals
Our initial interview, for which there is no charge, will last about an hour. Before entering into services, we present a proposal: a contractual document that includes all of the project goals and spells out our services and fees. Upon signing the proposal the client pays a small retainer, which is applied towards the first invoice.
We develop our fee structure based upon the scope & type of each project — usually an hourly rate or a flat fee. Our goal is to help our clients get the most from their budget while allowing us the most flexibility to get the job done right.